When you set out to investigate the plush and highly specialised nature of the new, longer Bentley Bentayga EWB, it's hard to know whether to start at the front of this mighty machine, or the rear. 
In the driver's seat, you have access to new standards of ride and road ability brought by the combination of a 180mm-longer wheelbase than the regular Bentley Bentayga and an all-new four-wheel steering system that improves both manoeuvrability and high-speed stability.
In the rear – after you've stepped through a bigger and now power-assisted door – you get access to the most spacious super-luxury accommodation going in a production car, even against the long-wheelbase Range Rover and Rolls-Royce Cullinan. 
There's a choice of three seating set-ups: a conventional three-seat bench, a novel two-plus-one layout (two big seats and a minimal central perch) or, as in our test car, so-called Airline Seating that consists of two multi-adjustable throne-like rear buckets, which are far better and more widely configurable than those offered by any airline we know.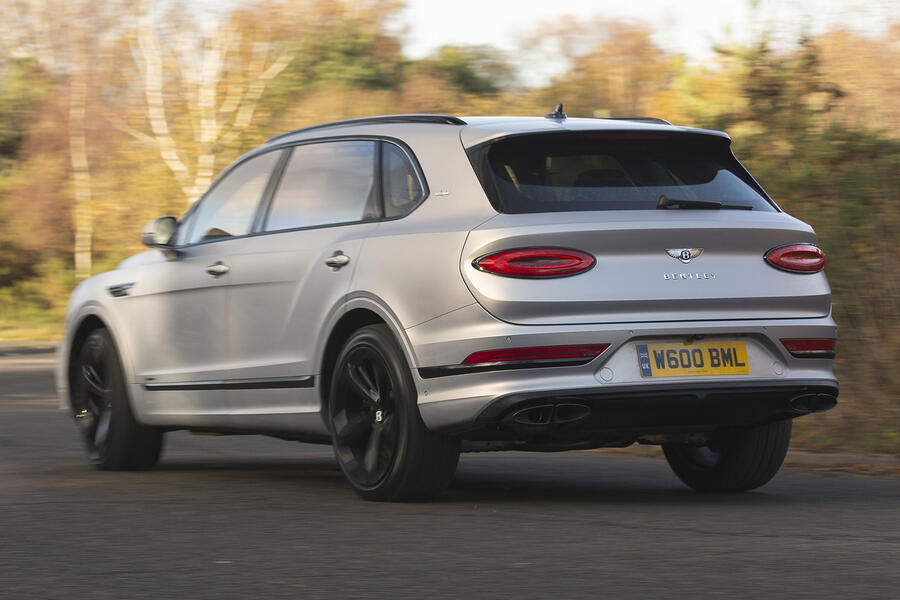 Overlaying the lot is a new concentration on reducing noise, vibration and harshness, especially in the car's rear compartment – not that the shorter Bentayga model is any slouch in that department. But this new EWB is now very much Bentley's flagship, and the best choice for those who prefer to be chauffeur driven.
For the time being, the EWB's one and only available powertrain is Bentayga's familiar V8 – a 4.0-litre twin-turbo V8 shared with Audi that has 542bhp on tap, drives all four wheels (widely and smartly spreading torque around the wheels according to load) through an eight-speed auto. Despite a hefty 2.5-tonne kerb weight, the EWB can turn in a 0-60mph sprint time of 4.5sec and has a 180mph top speed. 
A plug-in hybrid powertrain, whose petrol-powered component is a 3.0-litre Volkswagen Group V6, is already offered in the original, shorter Bentayga and looks a certainty for the EWB when demand builds (and, doubtless, computer chips become more freely available). 
Of course, the Bentayga feels fundamentally similar on the road to its shorter sibling, but there is a definite advantage to ride quality from the longer wheelbase, although body roll is still quelled by the same extremely efficient 48V active roll control system, and the EWB uses the familiar three-mode air suspension system. Nobody could quibble with either Bentley SUV's ride comfort, but those determined to quibble would say a Range Rover had an advantage in low-speed plushness and quietness over bumps.  
However, the long-wheelbase Bentayga's most striking feature is its four-wheel steering system, which decreases the turning circle to an extraordinarily tight 11.8m at parking speeds but also turns the rear wheels minutely in the same direction as the fronts during energetic higher-speed manoeuvres – such as forced lane changes – to increase stability.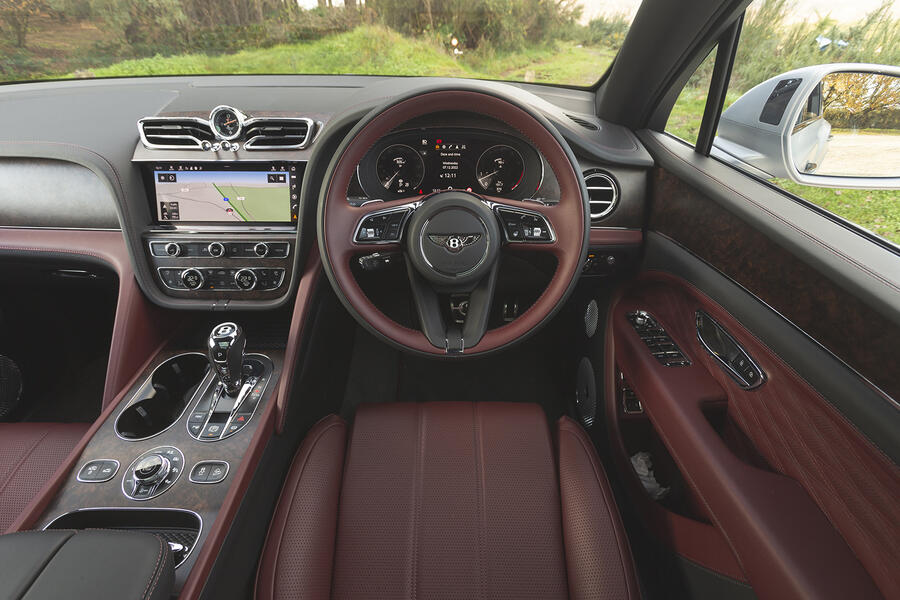 There is a resulting 'king of the road' feeling that needs to be experienced to be believed: only the Bentayga's considerable body width now affects its ability in really tight going, such as inner-London streets.
There are a few quibbles. The steering in the car we tried suffered from minor levels of stiction around the straight-ahead that mean it needed more concentration than its best rivals. And although the cabin assembly and materials quality are among the finest available at any price, the fiddly switchgear (although beautifully made) is starting to look distinctly old-school. We're putting money on this being an important area for progress in the next model, which must be well under way given that the first production Bentayga saw the light of day in 2015.