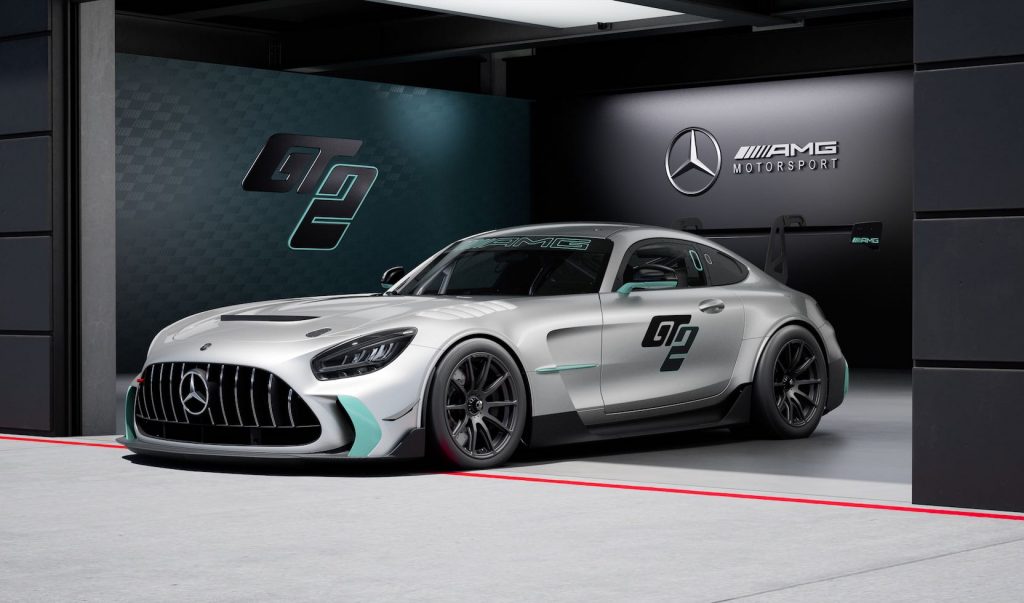 The Mercedes-AMG GT is about to get a new generation model. However, it seems there's more to the outgoing one in the GT2 racing scene.
Recently, the motorsport division of the three-pointed star marque just unveiled its new car, which was aptly named the Mercedes-AMG GT2. The product is considered to be the most powerful homologated version of the AMG GT for a racing customer.
The AMG GT2 is highlighted by its 4.0-liter twin-turbocharged V8 engine with a flat-plane crank. Despite its similar engine setup with the Black Series though, its output is capped at 697 hp in accordance with GT2 rules that aim to level the playing field.
The coupe features a new body kit with a low-hung suspension. The body mods are comprised of new components that include a massive adjustable rear wing, hood scoop, fenders, side aprons, and carbon fiber inserts for optimal weight reduction. The resulting number of the vehicle on the weighing scale is 3,000 lbs., including its air conditioning unit. These are topped off with forged 18-inch center-lock wheels wrapped in high-performance racing tires.
The interior is likewise augmented for racing including a full cage, bare dashboard, and racing steering wheel with shift paddles for easy shifting in its sequential six-speed racing transmission. The central display is stripped down in order to give way to switches for the main functions of the vehicles, and the same treatment is provided to the central console, too.
There's no word about the pricing of this specific unit of the Mercedes-AMG GT2, but it's estimated to be north of $300,000.