By: Mark Moskowitz MD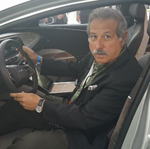 Mercedes chose to concentrate on its C-Class for an upgrade this year. It is slicker and sleeker yet longer and wider and it's styled to resemble its luxurious sibling, the S. High end adornments and conveniences abound. The woodgrain finish on the dashboard, unique cuboidal vents and the abundance of satin metal surfaces make a bold statement. Plush heated, multi adjustable front seats and room for adults in the rear (overall vehicle length has increased by 2.5 inches) fill out the package.
An enlarged central touch screen is the most striking interior update. It tilts six degrees towards the driver as it dominates the central stack. Contributing to the Tesla inspired look is an absence of dials, knobs, and toggles, a fact that saddens and scares most males who can no longer realistically double their age. Yet I got over it. Steering wheel and console mounted volume controls were easy to find and adjust, as were controls for climate and more. And all could be supplemented by the MBUX voice system, one of the industry's best. Call out 'My Mercedes' and amazing things happen.
The powerplant has been updated. A 2-liter turbocharged four cylinder is supplemented by a 48-volt (inline between engine and transmission) hybrid system. It adds some weight but also can temporarily boost torque by 148-foot pounds and horsepower (20 hp). While other testers have achieved quicker times, my stopwatch recorded a tick over six seconds from a standing start to 60 mph. Whisper quiet ignition and slightly increased fuel mileage around town are benefits. Altered brake pedal feel (spongey or sticky) is a side effect which most likely comes from regenerative braking.
Underway one can engage eco, comfort and sport modes. It's a comfortable and stable ride with all three settings, Cornering and steering wheel inputs improve on the sport setting but not as dramatically as in an S-Class or other brands' sport offerings by comparison. The increased steering effort and slight driver disconnection associated with sport mode is common across multiple marques and models. The test model came equipped with optional acoustic glass; sound deadening was mid-size sedan adequate but not exceptional.
Cool features that bear mentioning: a GPS enabled surround view camera system-tight parking at home or workplace, set it and the camera turns on automatically, an optional nav system that provides a live feed and points the way, a fingerprint reader that enables one's own settings, messages etc. The tiny scanner comes on the base model as do heated seats, a sunroof, hands free trunk access, the 11.9-inch touchscreen and the multi-adjustable 12.3-inch digital instrument cluster. Optional 'killer' 18′ Multispoke wheels are offered at no extra cost.


Picking nits. I could not retrieve my phone without removing the cup from its holder and I never could access the rear cup holders. There are more important considerations.
The entry level C300 lists for $43,500 before destination charges. The 'entry-level' concept may be a contradiction in terms. Those coupes, sedans, SUVs and sports cars with their familiar three-pointed star (you will note that I am not including Sprinter and Metris vans) are considered standards for luxury. Complementing that is a reputation for innovation and technical advances. I would expect not to have to reach for such things as surround view cameras and wireless charging (these add $2,250 as part of 'Exclusive Trim') and a heads-up display and MBUX nav (adds another $1,700 as part of 'Pinnacle Trim').
Ventilated front seats and a heated steering wheel add another $700. And the Driving Assistance Package which includes a number of active safety systems, and the now decade plus old adaptive cruise control adds $1700 more. Add a few USBs for $300. And you're at $51,250 before a destination fee. Mercedes' 4MATIC system adds another $2000. I would want all of these options as standards in a small to mid-size luxury four door.  And do not forget to figure in the cost of service (three years of which are often factored into the purchase price of other cars in the C's class). In present day inflation adjusted moneys, I believe the C300 acceptably priced. I like the car. But as you should in all large purchases/ investments, know what you are buying.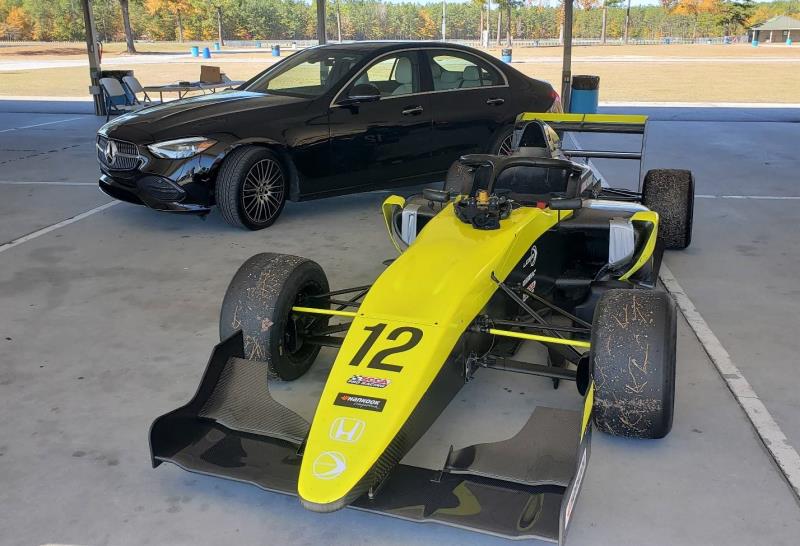 2022 Mercedes C300 Sedan
$43,550
enhanced ambient lighting
$250
Multia Media Package
$1,700
(HUD, MB Nav, Augmented Video)
Park assist/surround view
$950
month/ year tested
Dec-22
curb weight (pounds)
3825
fuel capacity (gallons)
17.4
* as originally configured by factory;  options and models have changedPhoto credit: Mark Moskowitz MD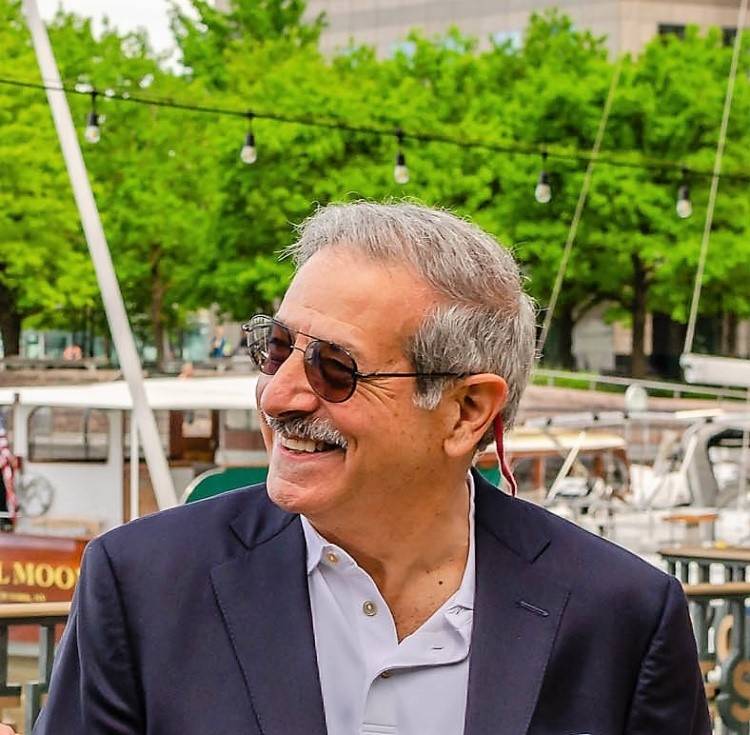 About Mark Moskowitz MD
Mark Moskowitz MD is a retired surgeon, racer, and car collector. He is director and curator of The Museum of Automobile History (pvt), manages the estate of renowned automotive artist, Carlo Demand, serves on the Board of Directors of Carolina Motorsports Park and is Vice Chairman of the Board of Directors of The Motorsports Hall of Fame of America. He is a frequent contributor to multiple motoring publications. Dr. Moskowitz is a member of International Chief Judge Advisory Group and has been privileged to judge concours events at Boca Raton, La Jolla, Santa Fe, Arizona, Greenwich, Hershey (the Elegance), Radnor Hunt, Cobble Beach, Hilton Head, Dusseldorf, Knokke-Heist, Monticello Raceway and Delhi, India. Dr Moskowitz has served as chief judge for the race car concours at Monticello Raceway, the Trump Charlotte Concours and the Miami Concours.