Which color of the 2022 Kia EV6 looks the best in your opinion?
The all-new Kia EV6, which just went on sale in all 50 US states, comes available in 9 different exterior colors.
The carmaker's first ever EV built on the E-GMP dedicated electric vehicle platform boasts a very unique exterior design, roomy interior with some cool high tech features, as well as world's most advanced driving technology.
Not only does the 2022 Kia EV6 offer a choice of all-wheel-drive, it also comes with an up to 310-mile driving range and charging speeds unmatched by many of its main rivals!
Charge this eye-catching Kia electric vehicle on a DC fast charger and you'll top it up (from 10% to 80%) in only 18 minutes!
On top of that, the Kia EV6 comes available with some great color options. The 2022 model range features 9 different unique paint shades, so let's have a closer look at what those are.
List of 2022 Kia EV6 colors
Steel Matte Gray
Interstellar Gray
Snow White Pearl
Steel Gray
Glacier
Runway Red
Gravity Blue
Yacht Blue
Aurora Black Pearl
Colors of Kia EV6 2022 (model year)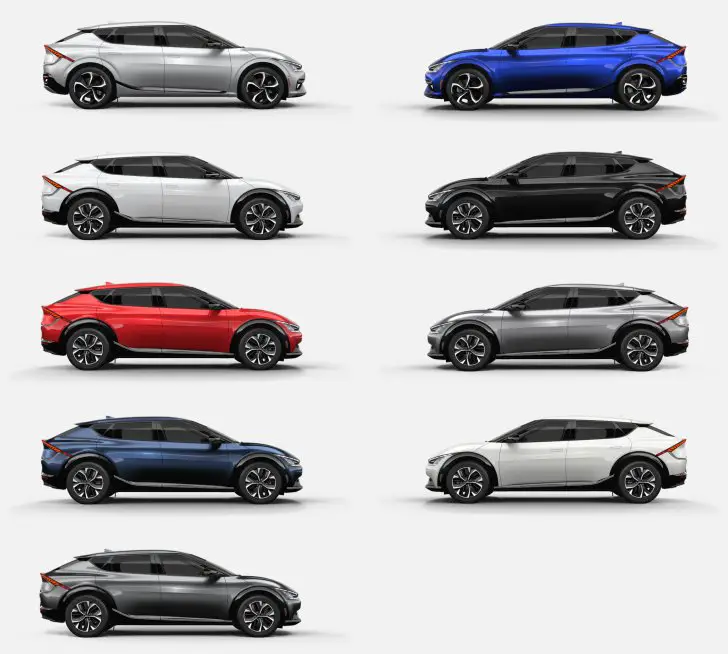 The quickest Kia ever, with only 3,5 seconds from 0-60 mph on its top trim level, called GT, has some nice exterior colors to choose from.
You can have it in a lighter blue or darker blue color, red, black, white and even matte gray paint shade. There are several different gray colors available, as well as two white ones.
As you can see in our latest Kia news article, the colors of Kia EV6 are wide and varied, and while there are nine unique exterior shades to have, some are specific to certain trim levels. This is something that you need to keep in mind before you get your heart set on a specific color.
Exterior color by Kia EV6 trim
Color
Light
RWD
Wind
RWD
Wind
AWD
GT-Line
RWD
GT-Line
AWD
Glacier
/
+
+
/
/
Interstellar
Gray
+
+
+
/
/
Gravity
Blue
+
+
+
/
/
Snow
White
Pearl
+
+
+
+
+
Aurora
Black
Pearl
/
+
+
+
+
Steel
Gray
/
+
+
+
+
Runway
Red
/
+
+
+
+
Yacht
Blue
/
+
+
+
+
Steel
Matte
Gray
/
/
/
/
/
(+ stands for available … / stands for not available)
How about Yellow color?
Is there a yellow paint available on the US-market Kia EV6? The answer is yes and no. Let us explain.
A certain amount of people had been lucky enough to get themselves a yellow-painted Kia EV6. That color was available on the EV6 First Edition model, which was offered for a very short period of time after at the official release of the EV6 crossover in the United States.
Only 1.500 units of the Kia EV6 First Edition were made available and all were fully reserved the same day the offer became available on Kia's US website.
This First Edition model was offered in 3 different exterior color with one shade being the Urban Yellow.
Right this moment, the EV6 color range in US does not offer yellow exterior color, but that may change in the near future. We will sure keep you updated, so stay tuned. (Photos: courtesy of Kia America)