We've been waiting to get some details about the Chevrolet Corvette E-Ray, which is slated to debut in 2023 as a 2024 model. While Chevy hasn't announced when it will debut, the Corvette hybrid was revealed early on a leaked configurator.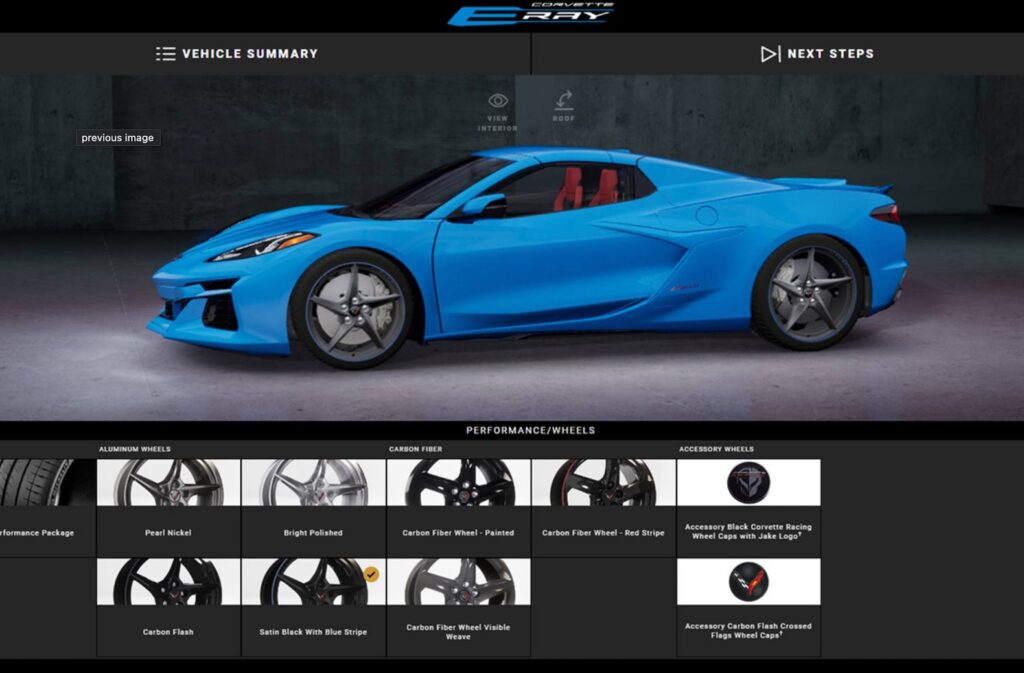 Corvette Blogger caught the configurator and managed to grab some screenshots before it was taken down. We don't have any specs yet, but we can see the different design details that the E-Ray will have compared to the other Corvette models. We see more body-colored trim pieces and "E-Ray" emblems on the quarter panels.
It looks like the Corvette E-Ray will be available in 13 colors, like Riptide Blue Metallic, Cacti, and Sea-Wolf Gray Tri-Coat. There will also be lots of wheel designs to choose from, which includes three that are made from carbon fiber. The interior gets a new color called Artemis.
Inside there is one unique trait, a button on the driver's side of the center console that is reportedly used for a new function called Regen-On-Demand. The system will likely let driver's set the amount of brake-energy recuperation desired and it might even have a one-pedal driving feature. It's being reported that the E-Ray will be powered by a hybrid powertrain that consists of a 6.2-liter V8 and an electric front axle. We don't know if it will have a single or dual motors at the front, but either way the E-Ray will have all-wheel drive. It's been rumored that it will arrive with around 650 horsepower.
Chevy hasn't stated when the 2024 Corvette E-Ray will debut, but it did tell Corvette Blogger, "looks like the holidays came early for a few astute Corvette fans. Stay tuned for more."