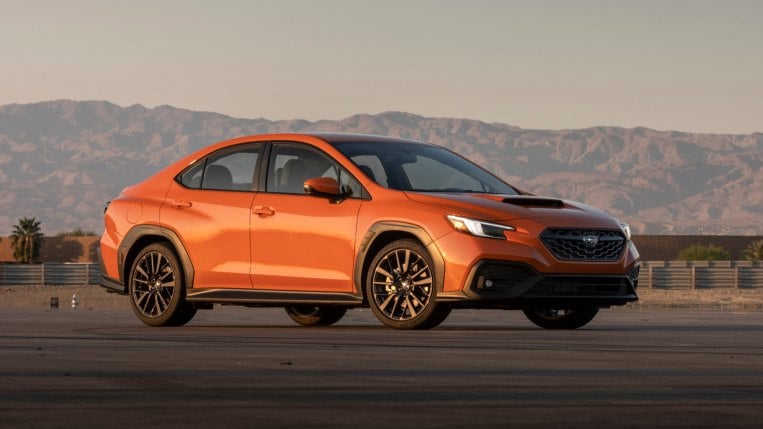 If you're thinking of buying a Subaru WRX, rush out and do it right now. Subaru has just announced what to expect in the model-year changeover from the 2022 to the 2023 version. The adjustments? A price increase. That's it.
The 2023 WRX is the 2022 WRX, with a higher price tag. There are no substantive changes to the car.
That's not surprising since the WRX was all-new for the 2022 model year. It's a recent-enough design that the company might not have found much to improve.
The WRX also lacks true competition. It's a high-performance version of an affordable compact car, like the Honda Civic Type R or Hyundai Elantra N. But the WRX is all-wheel drive and tuned for the kind of trail driving that made it famous with wins on rally racing circuits. There's nothing else quite like it, so Subaru can more or less ask for whatever price it finds fair.
But we rarely see a car that doesn't gain at least some small feature for a new year.
Subaru's website lists 2022 prices for the WRX, and a press release sent to reporters lists 2023 prices. The latter are universally $1,000 higher regardless of trim.
2023 Subaru WRX Pricing:
Subaru also charges a mandatory $1,020 delivery fee on every WRX.
| | | |
| --- | --- | --- |
| Trim | Transmission | MSRP |
| WRX | 6-speed manual | $30,605 |
| WRX | automatic | $32,455 |
| Premium | 6-speed manual | $33,105 |
| Premium | automatic | $35,155 |
| Limited | 6-speed manual | $37,495 |
| Limited | automatic | $39,745 |
| GT | automatic | $43,395 |