The 2022 Honda Passport is the mid-size, two-row cousin of the three-row Pilot, with more rugged styling that hints at its greater off-road capability thanks to a raised suspension and greater approach/departure angles. It competes against a range of two-row mid-size crossovers, from the Jeep Grand Cherokee and Subaru Outback, to the Toyota 4Runner. The 2022 Passport adds a new TrailSport trim that looks more rugged, but doesn't offer any off-road upgrades. The TrailSport trim level makes the Passport look more rugged, though it doesn't add any off-road capability; all of its changes are purely cosmetic at the moment.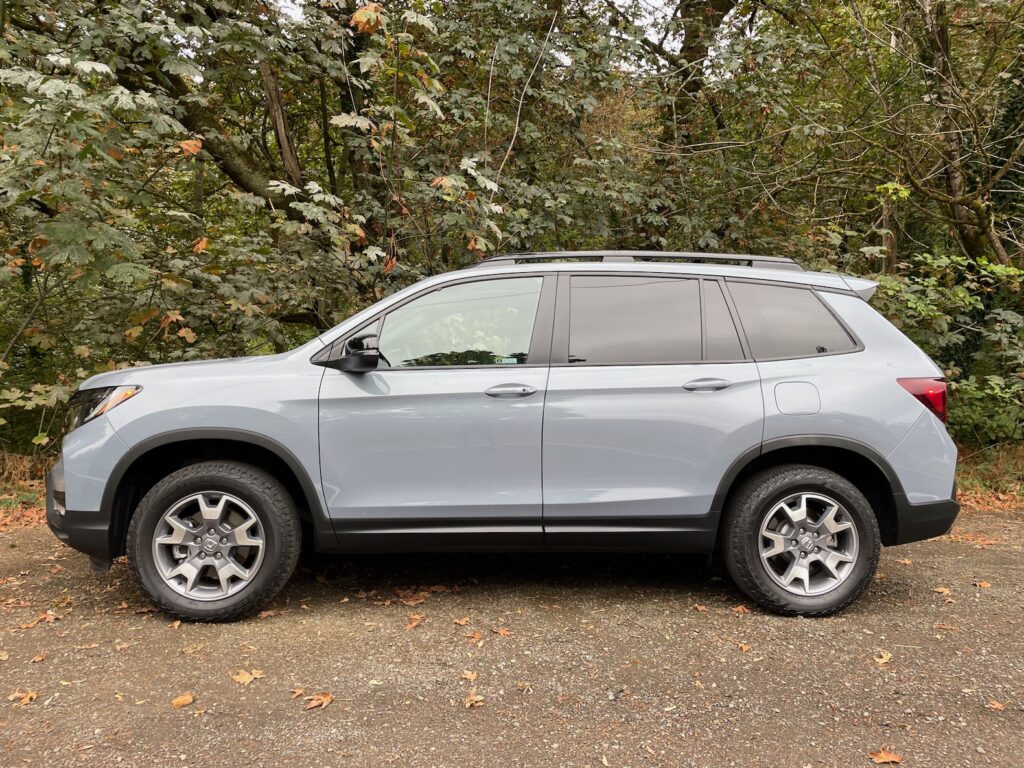 The Passport gets a small refresh for the 2022 model year that changes up the front styling to make it more truck-like. It has been restyled from the A-pillar forward with a new hood and squared-off grille that make the Passport look more like the Ridgeline than the Pilot. There's a new rear bumper as well to make room for larger exhaust tips (though the sound will remain the same). Wheel designs are all new and top out at 20 inches. A Honda Performance Development (HPD) styling package, including a new grille, black fender flares, wheels, and HPD graphics, is now optional.
The new TrailSport trim looks even more rugged. With a meaner grille and a stubby tail, the 2022 Passport doesn't look identical to the long, tapered three-row Pilot. It's handsomely rugged, but not a ground-breaker. At about 190 inches from nose to tail, the Passport's big for its mission, and Honda pulls some styling tricks out of its toolbox to make it look shorter and different than the Pilot. The front end has an unpainted chin that reads like three-day beard growth. From the side the Pilot family resemblance is unmistakable, but the Passport cuts its own outline with a thick slash at the tail that connects the roof and fenders.
The TrailSport gets unique front and rear bumpers, grille, 18-inch pewter wheels, and prominent badging located both inside and outside the cabin. There are no tire, suspension, or powertrain upgrades of note, the closest thing to a performance upgrade is a 0.3-inch wider track front and rear. This is disappointing, but Honda says those kinds of upgrades will come on later TrailSport models.
The Passport has some off-road capability, but it's best attributes shine through on the pavement. The Passport is Honda's most off-road oriented vehicle, more so than the Pilot thanks to its added ground clearance and shortened overhangs. That makes it suitable for trail duty, but the hardcore stuff should still be left to the Wrangler and Bronco. AWD is optional on the EX-L, but standard on the TrailSport and Elite trims.
The Passport shares its 3.5-liter V-6 with 9-speed automatic powertrain with several Honda models. That engine makes 280 hp and that gives the Passport more than enough oomph for day-to-day driving, though the 9-speed automatic can feel a step behind at times with delayed downshifts. Though it has off-road styling, the Passport is best suited for highway driving where its quiet cabin and smooth ride make it easy to chew up miles with minimal effort. It'll clamber over Moab's red rocks without too much agita, but it's happier getting to the trailhead than it is picking its way over the trail.
There are a few different off-road driving modes—Sand, Snow, and Mud— that change the powertrain's behavior and traction control settings. The Passport does feature 8.1 inches of ground clearance (on all-wheel-drive versions), but the lack of a transfer case or lockable axles means that any kind of crawling is a change. Towing capacity tops out at 3,500 lb with FWD, and 5,000 lb with all-wheel drive.
The Passport's gas mileage leaves something to be desired. The FWD models earn the best EPA ratings, 20 mpg city, 25 highway, 22 combined. With AWD, those numbers don't go down much: 19/24/21 mpg. A hybrid version of the Passport would go a long way to alleviating some of these problems, like Toyota has done with its two-row mid-size crossover, the Venza.
The Passport earns good crash scores and comes with solid standard safety features. A strong set of standard safety features and good crash scores from the ratings agencies give the Passport above-average safety ratings. It earned a full five-star overall rating from the NHTSA, though it only got four stars for its frontal crash impact performance. The IIHS gave it a "Good" crash test rating for all but the small overlap front test, where it earned an "Acceptable" grade. Every Passport comes equipped with automatic forward emergency braking, adaptive cruise control, active lane control, and blind spot monitors. The only option missing is a surround-view camera system.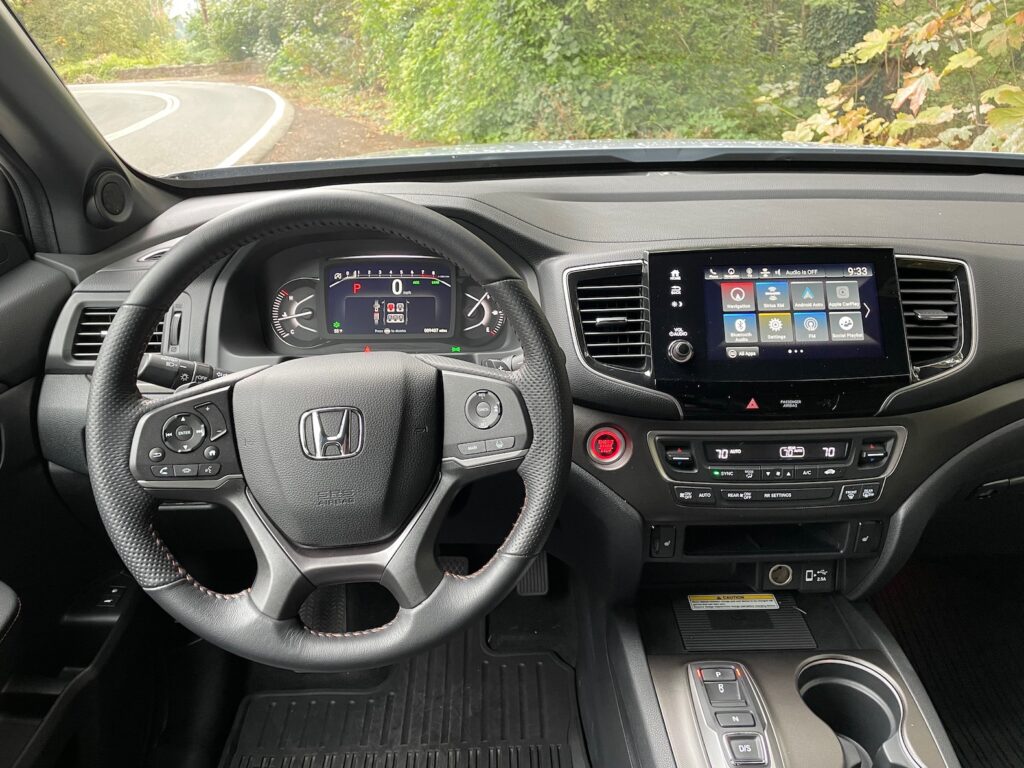 The interior of the Passport hardly changes from that in the Pilot. It's fine: it's a well-organized work space with a low, open feel, and a wide and deep center console. A lot of dark and black trim could use some relief, though. A nicely sized 8.0-inch touchscreen does come newly standard for 2022.
The Passport ditches a third-row for a spacious rear cargo area and ability to fit five adults with good rear seats. Though the Passport deletes the third-row seat and is about six inches shorter than the Pilot on which it's based, interior room for both passengers and cargo are an area in which the SUV excels. The front seats are fairly comfortable with a slight sportiness to them. Leather is standard now on all trim levels.
Move to the backseat and things improve, the bench provides ample support and there is 39.6 inches of rear leg room; plenty of space for even three adults to sit back there without too much cramming. Behind the rear seat the Passport has 41.2 cubic feet of cargo space, which expands to 77.7 cubic feet with the back seat folded. There is also a very helpful large storage bin hidden under the floor to store wet or dirty gear that you don't want to soil the carpeted areas.
The Passport has dropped the Sport and Touring trims for 2022, making the EX-L the new base model. Its price has gone up as well in the refresh, making it $39,095 to hop into the most affordable Passport now (versus less than $34,000 for a Sport a year ago). Moving up the base trim to the EX-L adds many features, but at a cost. By axing the Sport trim, the base price of the Passport has gone up significantly but that does give it a big jump up on standard equipment. It earns points for its long standard features list, as well as its large standard touchscreen (8.0 inches). It also features leather upholstery, a power liftgate, heated front seats, roof rails, and a wireless charger.
Remember that the EX-L is the only Passport to not come with standard AWD, it's a $2,100 option. There's less of a case to be made for the new TrailSport model, unless you really want the cosmetic upgrades and badging. That'd be the Elite model at nearly $47,000. For that, you add cooled front seats, heated rear seats, automatic wipers, hands-free power tailgate, and an upgraded sound system. All Hondas are covered by a 3-year/36,000-mile warranty, with no included maintenance.
The 2022 Honda Passport is an impressive two-row crossover that now has available rugged outdoor looks. The Passport's driving manners are one of the best in its class. It has room for four, all their gear, and can haul you to almost any remote site or outdoor adventure you can think of. All the while the Passport does one thing no others can match, it's a Honda with great safety, good value, and years of reliability ahead of it.