The 2022 BMW i4 is an electric sedan that mostly retains the conventional style of the 4-Series, but swaps in an electric powertrain. It competes against other electric vehicles, ranging from the Tesla Model 3 to the Genesis GV60 and Kia EV6. Though the i4's styling choices are mostly conservative, the electric drivetrain transforms it into something new for BMW. If you can get past the front styling, the i4 offers a potent combination of drivability, technology, and features, without producing any emissions.
The large kidney grille, with its pair of giant openings that take up much of the front fascia, is BMW's most controversial styling decision of late and while it is less egregious on some of the company's larger vehicles, it looks too big and out of place here. Stranger still, the i4's solid grille doesn't provide any real cooling benefit. Anything could have gone on the i4's nose but this monstrosity is what remains. M50 models look better, with more vents and shapes on the lower part of the fascia that help to draw the eye away. And darker exterior colors do a better job of hiding the schnoz, but anything brighter than a mid-tone gray and the i4 is an automotive homage to Cyrano.
The single-motor eDrive35 and eDrive40 are rear-wheel drive, but the M50 has two motors and all-wheel drive. The i4's acceleration impresses and the low center of gravity gives it some added handling chops and balance. M50 models come with a boost function that adds a noticeable burst of power.
We haven't tested the eDrive35, but its smaller 70.2-kwh battery (66 kwh of usable battery) connects to a single motor making 281 hp and driving a 0-60 mph time of 5.8 seconds. The eDrive40 produces 335 hp and 317 lb-ft from its single motor, enough to get it from 0-60 mph in 5.5 seconds. But the M50 is a different animal, with its two motors combining for 536 hp and 586 lb-ft for a 0-60 mph time of 3.7 seconds.
The M50 only reaches those power figures when it is in boost mode, which is only available when the car is shifted into Sport mode already. This mode only lasts for 10 seconds at a time, though it can be activated several times in a row. We have only tested the M50 so far and though it doesn't have the initial snap of acceleration you get from the Tesla, it still feels plenty fast and carries its power well past highway speeds with ease. This also makes it easier to nail corner exits by hopping on the throttle with more vigor, and knowing that it won't upset the i4's balance.
The i4's battery is mounted low, dropping down the center of gravity and helping the car feel planted. A standard rear air suspension features self-leveling and helps to lower pitch and roll. M50 models add an adaptive suspension with multiple settings and it flips ably between comfort and tightness as desired. Handling is very good and the car dives in nicely when prompted.
The i4 offers plenty of safety technology, but the best features are optional. The i4 has yet to be crash tested by either the IIHS or the NHTSA, so we'll hold off on giving it an official rating until then. Standard safety equipment includes automatic emergency braking, blind-spot monitors, front and rear parking sensors, and lane-departure warnings. Adaptive cruise control, a head-up display, active lane control, and a surround-view camera system are optional.
Your choice of wheels will have a large impact on the i4's range. The i4 eDrive40 tops out at 301 miles of range. Bear in mind that it only gets that rating on 18-inch wheels; opting for the larger 19-inch wheels knocks range down to 282 miles. On those 18-inch wheels, BMW expects the iDrive35 to go 260 miles. The discrepancy is even worse on the M50, which gets 270 miles on its standard 19-inch wheels, but only 227 miles with the 20-inch wheels that come with stickier summer tires.
At its most efficient, the eDrive40 gets 3.2 miles/kwh with the 18-inch wheels but that drops to 2.9 miles/kwh with the 19s. In the M50, that drop-off is more precipitous, falling from 2.8 to 2.3 miles/kwh. The eDrive40 offers 109/99 mpge combined, and the M50 just 96/80 mpge. Its range makes the i4 competitive in this category, but it falls well short of the Tesla Model 3's 358 miles of range and 131 mpge for its long range model.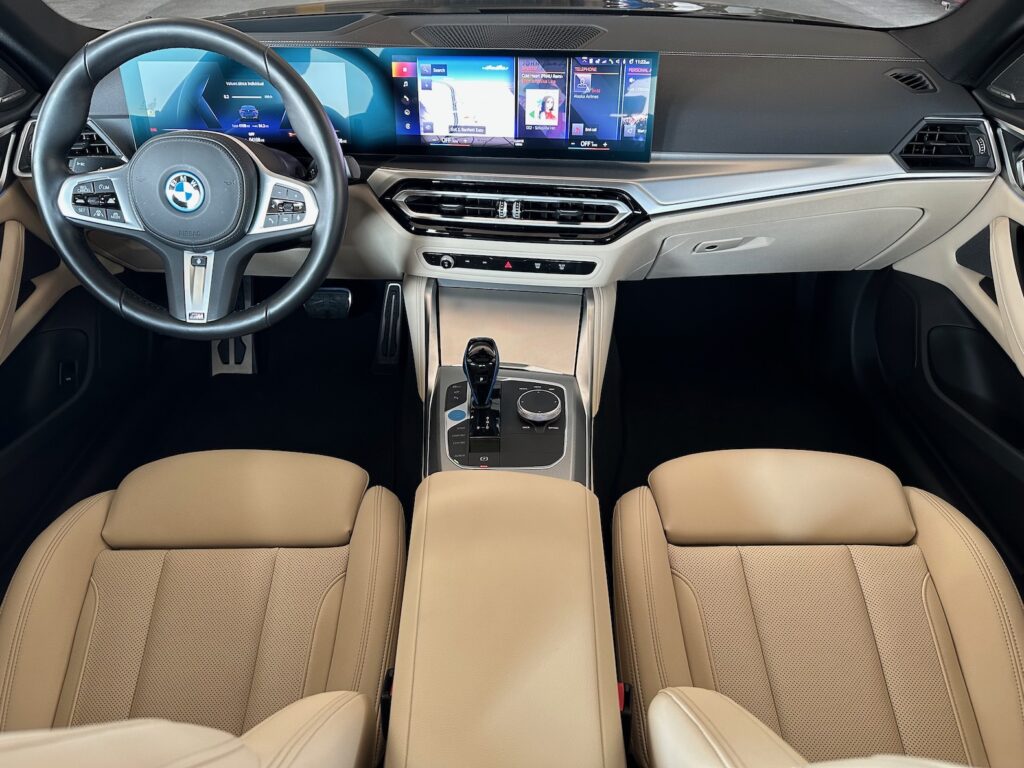 From the inside, impressions are much more positive. Mounting the two displays side-by-side on top of the dashboard feels more futuristic even if it does make reaching the right side of the screen a stretch. A small controller to the right of the drive selector is a necessary backup for operating the infotainment system. Materials and quality are top notch, giving the i4 a leg up on the Model 3 in that regard.
The liftgate provides excellent access to the rear cargo area. Unlike the 4-Series, the i4 is available in a single four-door bodystyle with five seats and a liftgate for easier access to the trunk. It earns a point for its excellent front seats and another for its high-quality interior, but it would be a challenge to fit four adults due to the cramped rear seats.
The front seats come with standard power adjustments and synthetic leather, but can be upgraded with heating, cooling, and real leather. In either form, they are comfortable and provide plenty of support for both passengers. The rear outboard seats are also comfortable in their own right with good leg room, but the i4's shape cuts into head room on the sides which will leave taller passengers feeling claustrophobic. There's also a prominent floor hump and not enough space under the front seats to fit your feet and that makes it very difficult to fit three adults in the rear for anything longer than a quick jaunt.
The i4 excels in this category with strong standard features and plenty of options. It offers the same 4-year/50,000-mile warranty and 3-years/36,000-miles of free scheduled maintenance as its gas counterparts, but BMW puts an EV cherry on top with two years of complimentary 30-minute charging sessions with Electrify America. On a fast charger, that's enough time to fill the battery from 10-80%.
For those who are OK without being in the fastest EV the eDrive35 presents better value ($52,395) but the eDrive40 has better efficiency and range than its dual-motor counterpart, starting at $56,895 (or $11,400 less than the M50). The eDrive35 and 40 are fitted with the same equipment, except for the battery size.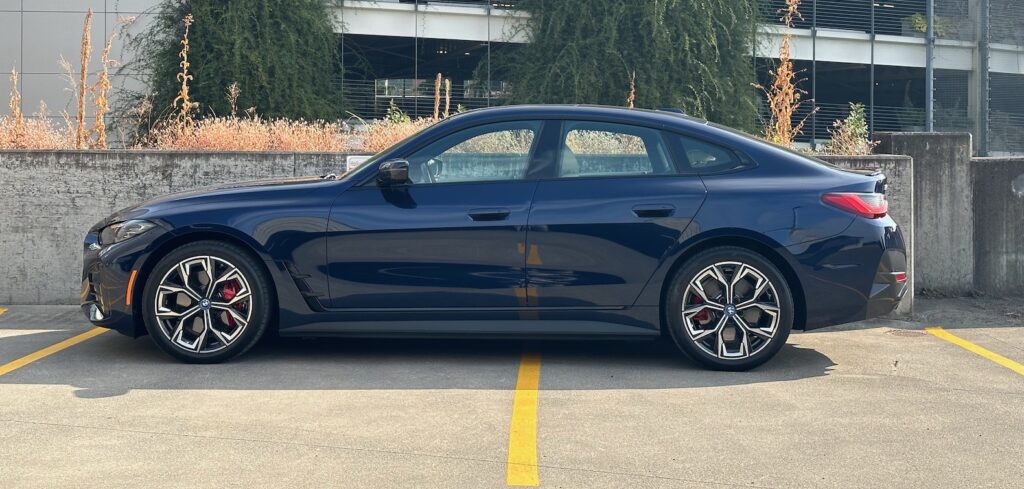 The 12.3-inch driver display and 14.9-inch infotainment touchscreen come standard, as do a power liftgate, dual-zone climate control, and 18-inch wheels. If you are looking to spruce up the eDrive40, nearly all of the i4's options are available on it, including leather upholstery, heated and cooled front seats, wireless device charging, and a head-up display. The M50 starts at $68,295 but can be priced up to roughly $85,000 with BMW's various paint, upholstery, and technology packages/options.
The new i4 continues BMW's award-winning recipe; a great sport sedan with exemplary road manners but now improved with electric powertrains. While BMW chose to use an existing platform, the end result works quite well. It's the electric sport sedan that we'd want to be driving on a daily basis since it can put joy into any drive. Which one is right for you really comes down to what kind of driver you are. If you're more concerned about range pick the 40 with its 301 mile range, but if you're more backroad barnstorming, choose the M50 with breathtaking acceleration; regardless you can rest assure knowing you've picked a great electric sport sedan.